Click here for an interview regarding touring in the footsteps of Dick Winters and the Band of Brothers.

Check out the Weider Groups History website and subscribe to their excellent WWII Magazines!
A group of paratroopers at Marmion Farm, Normandy
I created this website in order to share information regarding WWII Paratroopers and any information pertaining to their brilliant fighting history during World War Two.
It is dedicated to all the men who jumped out of fully functional aircraft or who entered battle by glider. It is these men who have inspired me in my life and as long as there are people who are interested in their stories, I will be there to tell those stories.
WOULD YOU LIKE TO TOUR THE WWII AIRBORNE BATTLEFIELDS OF EUROPE?
NEW! NEW! NEW! NEW! NEW! NEW!
TOURS NOW BOOKING FOR 2010! Reserve your spot today as space is limited.
CHECK OUT OUR HOT PRICE FOR OUR BAND OF BROTHERS TOURS FOR 2010. THEY CAN'T BE BEAT!
COMPARE WHAT WE HAVE TO OFFER IN THE WAY OF A BAND OF BROTHERS TOUR TO WHAT STEPHEN AMBROSE HISTORICAL TOURS OFFERS AND WE FEEL CONFIDENT YOU WILL CHOOSE OUR OFFERING!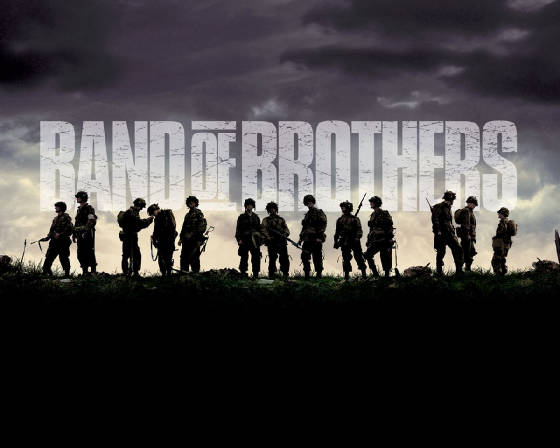 I am extremely proud and excited to announce that my tour company, Pathfinder Tours, has teamed with Jake Powers and Chad Weisensel in offering the Band of Brothers Tour experience to our customers!
Jake Powers created the Band of Brothers Tours along with his mentor and close friend Major Dick Winters, of the famous Easy Company 506th Parachute Infantry Regiment. Jake is the official Easy Company historian and knows more about the men and the company than anyone alive.
Chad Weisensel is active with Honor Flight out of Wisconsin, providing trips to WWII veterans to Washington D.C. in order to visit the WWII National Monument. He is an avid historian on WWII and is especially versed in Airborne history. Chad will be providing his expert care for our guest veterans as well as speaking at certain locations during the tours.
NEW INFO!
We will be joined by several actors from the Band of Brothers series! Scott Grimes (Malarkey) and James Madio (Perconte) will join us on the Band of Brothers full tours in 2010!
Picture courtesy of Dave Kelly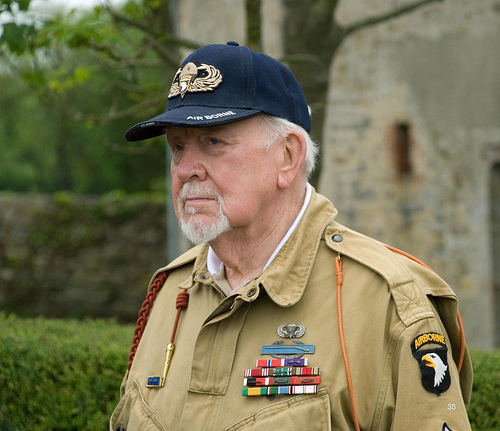 Donald R. Burgett WWII 101st Airborne veteran and author of several books that detail his combat record with A Company 506th Parachute Infantry Regiment.
We just returned from our Holland/Bastogne tour and to say that everyone had an excellent time would be an understatement!
Our tour group including Donald R. Burgett A/506th WWII and Dan and Mrs McBride F/502 WWII, landed at Schipol airport in Amsterdam, the morning of 15 September, 2009. Sparky took the group to the Airborne Museum at the Hartenstein Hotel in Oosterbeek, west of Arnhem, so that became our first visit. After a tour of the museum we ate lunch at the Cafe Schoonard and met some British Airborne veterans of the invasion.

FOR MORE DETAILS ON THIS TOUR CLICK ON "HOLLAND/BASTOGNE TOUR 2009" ON THE RIGHT SIDE OF THIS PAGE.
Come tour with THE 101st Airborne historian, Mark Bando.
We are planning tours to Normandy, Holland and Bastogne for 2010. Look for dates on these fantastic tours shortly.
IF YOU REALLY WANT TO LEARN THE DETAILS AND THE STORIES OF THE MEN OF THE 101ST, THIS IS A MUST DO TOUR!!!!!!!!
NEW! Although not airborne related, we are offering a personal tour with a veteran who may be the most recognized face of D-Day alive today.
We have partnered with Sgt. Bob Slaughter who landed with the 29th Infantry Division, 116 Regiment on Omaha Beach on D-Day.
Mr. Slaughter will personally guide you from Omaha Beach to St. Lo and beyond!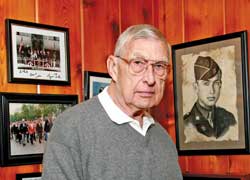 Click here for the Bob Slaughter Tour page!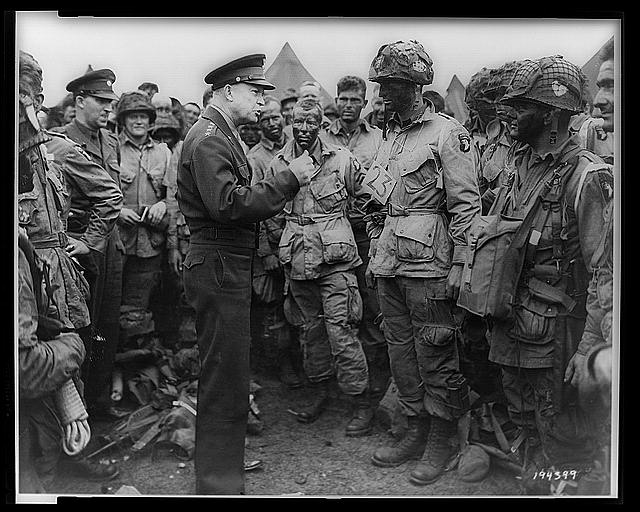 Ike talks to 101st Airborne troopers before the Normandy jump.
My friend Fred Bahlau was interviewed by his local newspaper in March 2008 and the whole thing was captured on video. "Fast" Freddy as we call him, tells a story like none other. Mr. Bahlau will most probably be a guest on one of our future tours.